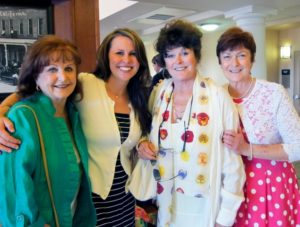 If I am anything, I'm spontaneous.  So I didn't think twice when my sister Alice called and asked me to join the "Jelly Bean Team," the group she was assembling for a Susan G. Komen "Walk for the Cure and Breast Cancer Research."  After all, I knew the heroic battle her sweet daughter-in-law Lori was waging against cancer.  Surely, a sister could step up to the plate, or in this case, out to the street, for such an important event.
"I'm in, sissy.  When is it?"
And with that quick response, I had just agreed to walk 60 miles in three days.  Plus, I had agreed to raise my share of the entry fee … $2,500.
See, Alice had taken on quite a job.  She had agreed to raise not only her fees but also the money for her son and his wife.  With travel costs and hotels, Alice was planning to raise over $10,000.
"That's a lot of money, sissy," I said, trying to be realistic without being negative.
But Alice was steadfast.  "I can do it.  I will do it."
And she did do it.
Normally gentle and rarely outspoken, when it came to raising money for the Jelly Bean Team, Alice turned into a lioness.  First, she got my husband to donate an old Ford van we used for office deliveries and moving stuff around.
"Alan," she said boldly one morning at the office.  "Why don't you let me sell the Ford van so I can raise money for my team?"
Without so much as a whimper, Alan agreed. Continue reading "A Walk For The Cure"