(It was Thomas Wolfe, and he sure was wrong!)
In July of this year, my husband and I took the Catalina Express, a state-of-the-art fast watercraft out of Long Beach Harbor, to Avalon on Catalina Island.  Avalon, the main city on the island, is where I met Alan, my husband of 50-plus years, while we were in college.  The small island city was Alan's boyhood home.  And this month, we were returning after an absence of 15 years.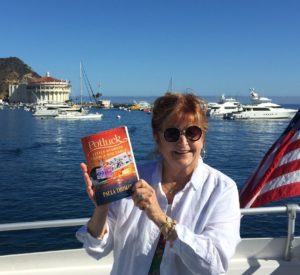 Our-bunk mates for the trip were our old buddies, Bob and Donna Fees, college friends and Alan's business partner of over 40 years.  (All these big two-digit numbers…sheesh, we're getting old).  The reason for our trip was a presentation and book signing for my book, POTLUCK:  Little Stories from a Big Table.  Friends of the Avalon Library (FOAL) were hosting the event (I never met a more dedicated or kind bunch of ladies).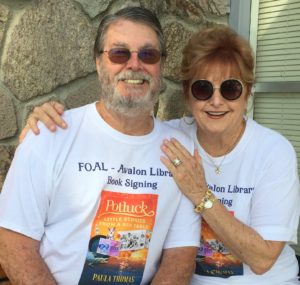 Anyhow, while cruising along in the Express, we sipped wine and discussed our schedule.  First stop would be our hotel, to drop off our luggage and, because it was late in the day, hopefully check-into our room.  It was during that discussion that we discovered the hotel I booked for the long weekend did not have an ocean view.  (Not that not having an ocean view would be a deal breaker, but it had been promised to my friends as part of our accommodations.)
"Are you sure?" I asked Laurie Reiten, a darling gal sitting next to us, who was a semi- local to Catalina and our instant new friend. "I swear there was a picture of Avalon Bay on the website!"
"Nope," she responded.  "I know exactly where that hotel is and it's nowhere near the bay.  In fact, it's up a super steep street."
"Are you absolutely, positively, definitely sure that it doesn't have an ocean view?"  I continued, unwilling to accept reality and the fact that I had led my friends astray.
Laurie just shook her head back and forth, smiling sweetly.  "No view.  I'm sure of that."
Donna, since she knows me well, wasn't surprised at all to hear Laurie's report. Donna has traveled with me many times and knows my enthusiasm and spontaneity can sometimes get in the way of finding out the small details, like location, whether breakfast is included, and whether or not a room with a view will be part of the experience.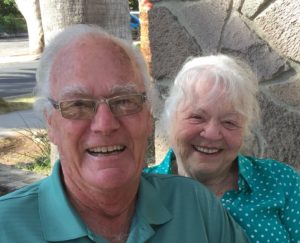 I tried to put up a defense. "I guess when I saw the price of the room I just assumed it came with a view.  It wasn't cheap.  And," I mumbled on, quietly, "That damned website showed a view of the harbor!"
Laurie was so right.  Our hotel was up a very steep street.  In fact, I'm pretty sure the cab was sputtering under the load as it stopped in front of our very tall, very narrow hotel; the one with not a single window facing Avalon Bay.
Our husbands, after unloading our bags in the reception area, gave us each a peck on the cheek and headed for the golf course together. They had called and reserved tee-times from the boat.  Donna and I began the check-in process and that's when we discovered the second thing it seems I should have asked about.  Our hotel didn't have an elevator.  And our rooms (are you [expletive] kidding?) were on the third floor.  That might not be a problem for some of you folks, but for four senior citizens past their mid-seventies, "no elevator" was not good news.
At first, Donna gamely suggested we carry the bags up by ourselves.  She has always exhibited pioneering spirit, so that idea didn't surprise me.
I quickly countered, "No way Jose.  We're getting some help."  And, I popped back into the reception area and asked for assistance.
A thin, gangly young fella with a big smile and kind eyes quickly came to our rescue and hefted our big bags up the three flights of stairs, going back and forth to the first floor for additional bags, before us two old gals even got to the second-floor landing (Donna and I were following behind with just our carry-on bags in tow).
She and I paused on the second-floor landing, panting like a pair of Bassett Hounds that just returned from a two-mile hike in the Mojave Desert. In between huffing and puffing, I looked right … and spied the view of Avalon Bay, the one I had seen on the hotel website.
"There it is, Donna!" I said, breathlessly.  "There's the ocean view I saw on the website!" I pointed to the end corner of a small patio adjacent to the stairwell. "I knew that stupid ad showed a bay view."
The patio with the rare and miniscule bay view was painted a garish yellow-white and was surrounded by a solid, chest-high, cinder block wall that made air circulation impossible.  It was easily 110 degrees inside that patio, maybe hotter.
"Ocean view, my ass!" I blurted sarcastically between breaths.  "Who would go sit in that oven and stare over that wall at the bay?  Not me!"
By the time I arrived at my room, the nice young guy carrying our suitcases had serious sweat on the front of his shirt and under his arms.  He grunted loudly as he struggled to drag my ridiculously heavy bag up on to the bed.  Loaded with books and other junk I needed for the book signing, it easily weighed 80 pounds.  (Usually my make-up bag is the heavy one.)
"Sorry my suitcase is so heavy," I told him, as I fumbled around in my purse for an adequate tip.
"What's in this thing?" He asked, trying not to sound irritated and genuinely bewildered by the immense weight.
"It's my rock collection," I said, laughing.  "Never go anywhere without it."
He did not laugh.  He smiled, but he did not laugh.  He got a good tip.
Okay, I don't profess to be a professional decorator, but who on earth decorates a hotel in a beautiful seaside resort with oversized, dark, heavy, inexpensive Spanish furniture?  The bed had a headboard that consumed almost the entire wall and the bed was huge… a Cyclops could have slept in it.  Enormous bedside stands flanked the bed but held reading lights so dinky they would have easily fit into a Barbie Castle.  The bathroom had a plastic oval sink completely embedded with silver glitter (I'm not making this up) and rested upon a Bombay-style chest that engulfed the space to the point that there was no room for a trash can on either side of the sink.  The lights above the sink didn't go with the Spanish décor (think Nantucket nautical).
The air conditioner, window-mounted of course, ran so loud that you had to turn the TV up to the point that the voices of the people speaking cracked and distorted.  Then, when the room was cooled to the appointed temperature, the A/C would turn off and you had to quickly reduce the TV's sound level or the boats floating in the harbor would hear the announcer on Antique Roadshow.  It was impossible to relax.  Honestly, I felt like I was trapped at a Guns 'n Roses concert.
When Alan arrived home after golf, he was winded (of course) and thirsty.
"Where're the glasses?" he asked.  "I can't find any glasses.  Like anywhere."
I called the front desk and explained that the housekeepers forgot to leave drinking glasses.  I was also thinking to myself that bottled water in the room would have been a nice touch since Catalina has a water shortage and the local tap water tastes like a heavily-chlorinated swimming pool.
"Sorry about that," came the response on the phone.   "We have plastic glasses here in the lobby."
"Oh sure," I responded brightly. "I'll just run down three flights of stairs and get what should have been in our room already, and then run back up three flights of stairs and probably have a heart attack!"
She did not laugh.   Silence ensued.  I felt a theme developing.
"Okay," she finally said.  "I'll be right up."
Hotel placement aside, we had a wonderful time in Catalina.  The book signing at the Avalon Library was a big success.  Lots of old friends (still young at heart) dropped by as well as some nice folks spending the day on the island.  I really appreciated the hospitality of the gals from FOAL, Judy Grear and Dr. Alison Osinski, as well as Assistant Librarian, Suzanne Moscoso and Paul, who moved tables around and helped put up my posters.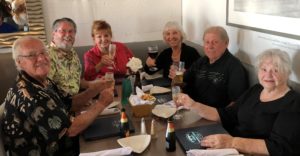 Later that evening, as the sun was setting over Avalon Bay (which was TOTALLY visible from our table in the restaurant), we shared a delicious dinner at Steve's Steakhouse with Bob, Donna and old friends from Avalon, Trudy and Joe Saldana, former owners of the much-loved, Coyote Joe's Bar and Restaurant.  Joe and my husband were school classmates and Trudy is very active in the community, so dinner chatter fluctuated between talk about the good old days and what's ahead for the city we all know so well.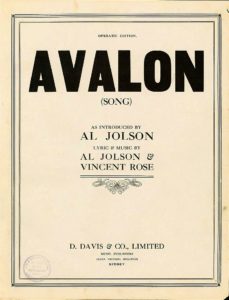 We have so many wonderful memories of Avalon.  My husband grew up there, we met each other there, and we were the "first" couple to ever receive a marriage license on the island (our 15 minutes of fame).  We spent several summers living in Alan's parents' downstairs room, having fun as newlyweds, working long hours and earning enough for another year of college.  Later, there were numerous summer vacations camping on the backside of the island with our children and their friends.  In our even later years, we returned to live on Catalina Island in the home we built on Descanso. Because of this, "our song" is, of course, I Met My Love in Avalon, by Al Jolson and Vincent Rose.  And so, I think it's fitting to end with the words to that song…
I found my love in Avalon
Beside the bay
I left my love in Avalon
And sailed away
I dream of him in Avalon
From dusk until dawn
And so I think I'll travel on
To Av-va-lon."